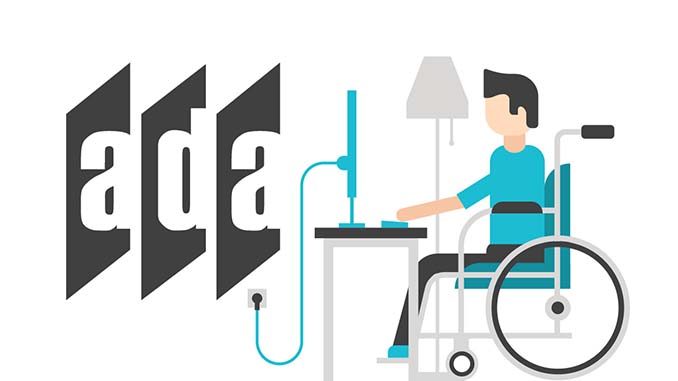 AMERICANS WITH DISABILITIES ACT (ADA)
NON-COMPLIANCE WEBSITE
BUSINESSES ARE GETTING SUED
If You Have A Business Website,  You Need to be Compliant with the Americans with Disabilities Act (ADA) or You Risk Costly Lawsuits and Litigation.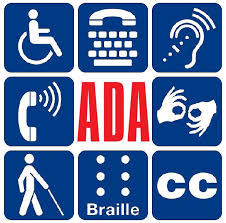 The Americans with Disabilities Act (the "ADA") has been the source of a tremendous amount of litigation since President George H.W. Bush signed it into law in 1990.
Americans with Disabilities Act Title III requires private sector businesses that serve as "places of public accommodation" to remove "access barriers" that inhibit a disabled person's access to goods and services.

Initially, when the ADA (Americans with Disabilities Act) was enforced in 1990, the internet was not as widely used as it is today. Moreover, the common misconception that many companies have when it comes to ADA Compliance is ensuring that they meet the physical requirement.
Although ADA Title III does not directly include websites  or other web-based technologies, ADA Title III is being interpreted to include websites as "Places of Public Accommodation"
Websites to be Accessible to Disabled People, the content must be coded so that Screen-Reading Software can convert the words to an audio translation. The video that appears on a website must include descriptions for the deaf. Also, all interactive functions must be operable through keyboard commands for people who can't use a mouse.
 "Disabled Website Visitors should be able to unplug their monitor and mouse and navigate your company's website. If you can't do that or don't understand what that means, then you have an accessibility issue."
The ADA Issue received National Attention after a 2018 Decision by U.S. Supreme Court Ruling that let stand the Lower Court Decision that opened the door for blind people to sue Domino's Pizza for not making its website accessible to Disabled People.  The Lower Court Ruling decided that the ADA not only applies to make a company's brick-and-mortar establishments accessible to disabled people but covers their online properties, as well.
The Hooters Restaurant Chain was Sued in 2017 Multiple Times for the exact same issue, even after the chain agreed to fix its website as part of a settlement of a previous lawsuit. A Federal Appeals Court ruled that Hooters remained vulnerable to lawsuits until it fixed the website under the previous lawsuit settlement.
CVS Pharmacy was Sued in a Ventura County Superior Court in 2017, according to court records. In the suit, a resident of Ventura County was seeking $75,000 in damages, saying that the CVS website was not accessible to blind people.
In January 2019, Beyoncé's Parkwood Entertainment Company was accused over website accessibility in a class-action lawsuit that alleges that it violated the Americans with Disabilities Act (ADA) by denying visually impaired users equal access to its products and services.
Other High Profile Defendants of ADA Website Compliance Lawsuits Include:
Amazon, Burger King, Hulu, Domino's Pizza, Fox News Network, Nike, Blue Apron, CVS Pharmacy, Hobby Lobby Stores Inc, Harvard, MIT, Miami University, QuikTrip Corp, and Winn Dixie.
The LA Times tells a Story of the Avanti 's 10-Room Hotel on East Stevens Road in Palm Springs California that was sued because it wasn't fully complied with the 1990 law that requires public places to be accessible to people with disabilities. The Avanti Hotel, like thousands of other businesses in the United States that have been caught up in a recent wave of ADA Lawsuits Targeting Websites across the Country.
Over the last three to four years, there has been an "explosion" of lawsuits and claims by disabled people, asserting that Businesses' Websites were not accessible to them because they were not up to code with ADA Title III of the Americans with Disabilities Act, or ADA
Nearly 5,000 ADA Lawsuits were filed in Federal Court for alleged Website Violations in the first six months of 2019 and is predicted that the number of lawsuits will climb to over 10,000 by the end of the year 2019, a 30% increase from 2017 and up about 300 percent since 2013.
"Ignorance of the Law Can Cost You
Tens of Thousands of Dollars
with the Average ADA Compliance Lawsuit of $50,000."
While Small Businesses have been Generally "Flying Below the Radar" because their sites get less traffic, these businesses are equally vulnerable. Law firms will soon run through the list of major retailers to Sue and then will start looking at smaller companies further down on the list in terms of size and revenue. In other words, the claims are coming to a small business near you.
According to a 2019 Study, 98 percent of more than a Million Home Pages of both large and small companies analyzed by an industry watchdog, failed to meet all the recommended requirements of website accessibility for disabled people.
With online sales, reservations, job postings, appointments, doctors' offices, car repair facilities, hair salons and more are now a huge part of modern commerce in the United States, advocates for the disabled say websites need to be as accessible to everyone, just as brick-and-mortar stores, restaurants, and schools are.
ADA Lawsuits have become the New Money-Maker for Greedy Lawyers, with the Department of Justice backing these ADA Compliance Lawsuits.
Businesses Typically Faced with an ADA Claim will have to pay the disabled individual's attorneys' fees (or at least some portion), their own legal fees, and will have to agree to certain modifications to the website." In some jurisdictions, disabled people can also be entitled to statutory damages under state law.
The Average ADA Compliance Lawsuit of $50,000.
Small Business Owners are finding it imperative to make their Websites ADA Accessibility Compliant.
​"Just A Matter of Time Before They Catch Up To You.
It's a Lawsuit that you're going to lose."
An ADA Compliance Service like ADA4Digital is exactly what you need to safeguard your business against Frivolous Lawsuits and to avoid a costly legal hassle due to ADA Non-Compliance and get your Free ADA Compliance Report Today.
ADA4Digital has been doing Web Consulting for over 15 years and their team has all the necessary skills and expertise as a trusted source of premium solutions to ensure your businesses website is ADA Accessibility Compliant and stop you from being potentially targeted for tens of thousands of dollars in Legal Costs over the ADA Violations.
ADA4Digital's Proven Systematic Approach starts with a Comprehensive Website Survey Report of your Company Website. Once your Website Survey is completed they will share the available options with you and then perform the applicable coverage and monitor it 24/7.
ADA4Digital takes an enormous amount of pride in their work. Their Team consists of over 80 Web Experts that work on ADA Compliance Issues daily and are confident that you'll be more than satisfied with their services.
ADA4Digital is exactly what you need to Safeguard your Websites against Frivolous Lawsuits and everything you will legally need to prove your Website is ADA Compliant.
ADA Compliant Websites get a Better Ranking in the Major
Search

Engines.

Today, the Major Search Engines (such as Google and Bing) take into account whether or not a Website is ADA Compliant when determining how they rank in their searches.

Having an ADA Compliant Website is so important that Google gives it more content relevancy and therefore a higher listing than a Website that isn't ADA Accessible.

In fact, Google provides a built-in set of tools to help you see how your site ranks and how you can improve that rank—ADA Compliance is a major part of this.
---

---
Baby Boomer Magazine Does The Research and Screening of products, services, and retirement business opportunities expressly for their true value to Baby Boomers – ones that Baby Boomer Magazine can support with our "Baby Boomer Magazine Resource Guarantee".
Baby Boomer Magazine Utilizes our Baby Boomer Resource Partners to educate, consult, and if found of value to you, to sell you the products, services or opportunities that truly benefit you as a Baby Boomer.
Baby Boomer Magazine's Resources Partners also represent various products, services, or business opportunities that we have found to be of true benefit to Baby Boomers. We Guarantee there will be absolutely NO Hard Sell, NO Obligation, NO SPAM and NO Hassles.
Baby Boomer Magazine does not accept any Advertising Revenue from our Baby Boomer Resource Partners. We only monetarily benefit if you find the product, service, or opportunity that is of true benefit to you.
---