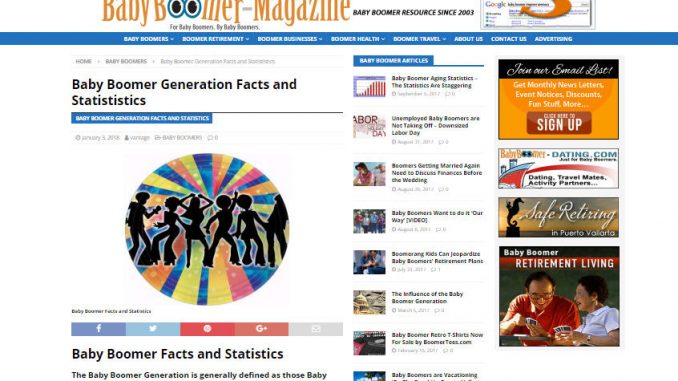 Reach Qualified Baby Boomer Buyers on Baby Boomer Magazine.

Whether a Baby Boomer is Searching for a health concern, a financial issue, a retirement resource or searching for something that fulfills a Baby Boomer specific desire or need; most have come to Baby Boomer Magazine searching for something.
Baby Boomer Magazine is over 15 years old and is without question one of the most popular Online resources for Baby Boomers with thousands of age Views every day. But the truth is that nearly 70% of its daily visitors come into our Online Magazine through a keyword/phrase search on a Search Engine from keyword/phrase optimized articles.
Baby Boomer Magazine adds substantially to the legitimacy of a Company, Product or Service wanting to gain the confidence of Baby Boomers.
Whether Baby Boomers find information on your Product or Service in a Baby Boomer Magazine Article or through one of our keyword/phrase optimized articles listed in a Major Search Engine Search, you will successfully reach qualified Baby Boomer buyers.
Baby Boomer Magazine is committed to giving Baby Boomers the knowledge and resources through informative Articles as well as through our Advertisers to make intelligent decisions as to their health, their finances, their retirement, their activities, and for the products that they buy and the services they utilize. In this relationship, Baby Boomer Magazine utilizes our Advertisers to educate, consult, and finally sell the products and services that truly benefit Baby Boomers.
Baby Boomer Magazine (BabyBoomer-Magazine.com) is primarily a Search Engine Marketing Website. This means that its design from its conception was for the purpose of effectively getting its articles into Search Engines in as little as 24 hours.
Search Engine Marketing (SEM) is a form of Internet Marketing that seeks to promote websites/webpages by increasing their visibility on Search Engine Result Pages (SERPS). It's a lot more complicated than that but this is a simple definition.
• Over 60% of those conducting online research for products and services go to Search Engines First.
• Over 70% of those wanting to purchase a product or service online will use Search Engines to find where to purchase it.
• Over 80% of serious buyers research a company, product or service on the Internet before making their purchases.
• Over 90% of U.S. adults who research online before making a purchase decision use Search Engines as a research tool.
Search Engines build keyword/phrase indexes of Web pages through a process called spidering using what is commonly called a Web Crawler. The process associates one or more of these keyword/phrases to the content of that webpage. When a Search Engine User types in a keyword/phrase, the Search Engine Result Pages (SERPS) reflect those indexed pages. There are often hundreds, if not thousands, of webpages that have been indexed with the same keyword/phrase.
Article Marketing can effectively give the Search Engines and its Users the subject matter that they are searching for. If done properly, this can truly be a win-win situation.
• Over 70% of online researchers will look at and click on an organic listing (on the left) before clicking on an advertised listing (on the right).
• Over 80% of online shoppers will read and trust a third party professionally written an article about a business, product or Service before they will by the contents of a company website.
Baby Boomer Magazine adds substantially to the legitimacy of Article Content published on its website.
Ways to Advertise on Baby Boomer Magazine
• Article Marketing on Baby Boomer Magazine
• Website and Category Sponsorships
• Performance-Based Marketing Programs
• Custom Advertising Programs
Baby Boomer Magazine Article Marketing Specials
Home Based & Online Businesses – Franchises – MLM's Welcome
We are looking for a Total Website Sponsor and Category Sponsors that truly benefit Baby Boomers to share in a Performance-Based Marketing Relationship.
• TOTAL WEBSITE SPONSORSHIP – Request Quote
    – TOTAL WEBSITE HEADER BANNER ON EVERY PAGE
– RELEVANT CATEGORY SPONSORSHIP INCLUDED
• CATEGORY SPONSORSHIPS – Request Quote
–  Baby Boomers, Retirement Resources, Health Issues and Products, Business and Jobs, Realestate, Investing, Dating, Travel, Custom Categories
• ARTICLE MARKETING PROGRAM – CURRENT ARTICLE SPECIAL PRICING
• Pay Commission on Sales – Request Quote
• Pay Per Lead – Request Quote
• Pay Commission on Sales – Request Quote
• Affiliate Program Commissions – Request Quote
REQUEST ADDITIONAL ADVERTISING INFORMATION HERE
Contact me if you have any questions and for additional information on these and other BabyBoomer-Magazine.com Marketing opportunities.
Daryl Burns
Baby Boomer Editor and Marketing Manager
626-638-3847
Email to advertising@babyboomer-magazine.com
---