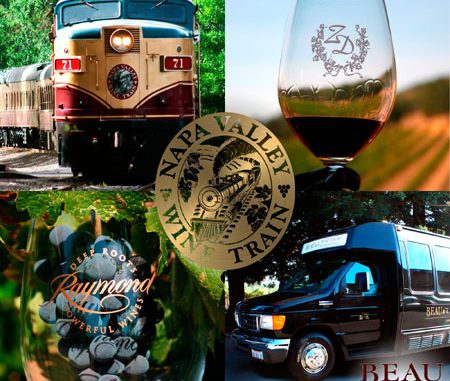 Napa Valley Wine Train, Limousine & Other Tours For Baby Boomers!
A must thing to do for Baby Boomers when visiting or vacationing in Northern California is to go on Napa Valley Train, Limousine, and other Wine Tours.
It is well known that one of the must things to do for Baby Boomers when visiting or vacationing in Northern California is to go on Napa Valley wine tours.
There are over 300 wineries in this region, and every one features some kind of wine-tasting event, wine appreciation class, or wine/grape-related activity.
There are straight-up Napa Valley Wine Tours, wherein a group visits two or three (or more) wineries, tastes a number of varietals, and has a guided informational that covers everything from revealing the interesting history of the particular winery to introducing new wines to the guests on the tour.
Napa Valley Rocks – FULL PRESENTATION 20:26
But then there are unique Napa Valley Wine Tours—including the vehicle the guests are driven in, the accompanying entertainment, and the bonus amenities at each winery stop.
One of the more classic (and classy) of the Napa Valley Limousine Wine Tours is the limousine tour: you choose a six- or eight-hour tour.  You schedule a pick-up destination for your party.  And you are chauffeured from the spot in a stretch limousine, taken along the gorgeous hills and into the valleys of the Napa/Sonoma areas while you start with complimentary champagne, visit four or five wineries, and get expert lessons and advice at a "state-of-the-art" winemaking facility.
Then, the limousine takes your party for a catered gourmet picnic lunch, also featured at one of the wineries—so you can enjoy the panorama of hills and vineyard colors, smells, and subtle nature sounds.  I discovered by way of Beau Wine Tours that this is one fine way to sample, learn, and fall in love with the area.
And of the hundreds of Napa Valley Wine Tours offered, the most unique is the Napa Valley Wine Train Tour: your party chooses a dining car—either the restored 1915-1917 Pullman Dining and Lounge car, the "open-air railcar," or the "glass-topped" 1947 Pullman Vista Dome dining car.  The seats are plush velvet; the sights are pure Northern California.  Even Baby Boomers, who were born and raised here, take the train once or twice a year.
Napa Valley Wine Train

For the Baby Boomer Generation, that's Napa Valley Wine Tours at the top of the grade.
Travel experiences that Baby Boomers can trust!
---

---