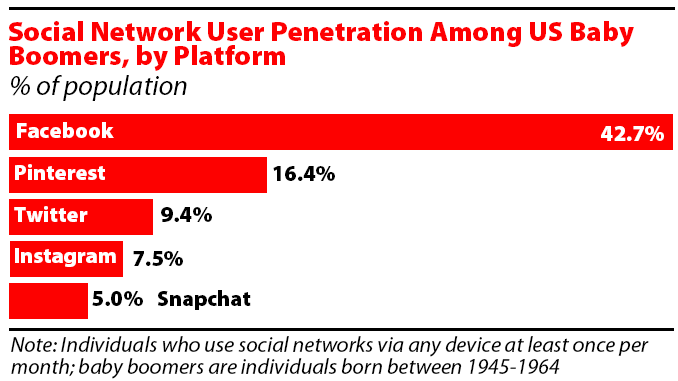 Social Networking for Baby Boomers Women
by Dotsie Bregel
57% of Baby Boomers have visited a Social Networking Website.
One-third of Baby Boomer Internet Users have a profile on a Social Networking Website.
Baby Boomers on board with a 59% increase in using social networking sites – Recent study by Accenture.
There's a big misconception that Baby Boomers might not be tech-savvy enough to keep pace with the younger generations, but as these reports share, this isn't the case.
You have to give the Baby Boomer Generation more credit than that. We're trendsetters, remember? And we aren't going to let a new trend get by us. No way. That might make us feel old, and that's the last thing Boomers want – is to feel old.
While cruising through Sam's Club last Saturday, I saw a Boomer man whose son swam with my daughter several years ago. I connected with him back then because I attended the same Catholic school as his family. His brother was in my class so I vaguely remembered him because he was in one of my younger sister's classes.
This Boomer fella was bursting with energy because he recently registered for Facebook and was making connections with people from good old St. Mary's Elementary School. I shared that I had a professional Facebook page. He asked me to friend him, and on and on it went. I saw him a few aisles later when he began the Facebook conversation again. "Remember Joe McNally? He wants to be a professional golfer at midlife. I've been connecting with him." What a hoot. Obviously, this guy couldn't get enough.
A girlfriend is using Facebook to keep up with her kids and their friends. She's a bit of a snoop. I can't imagine how much time she bounces around from profile to profile catching up with all the 20-something gossip. It cracks me up.
Then there's the grandmother who's in her 70s and "friending" her grandchildren and their friends. Rumor had it that they all scattered to block their photos so Granny Mc couldn't see what they were up to.
You have to laugh.
Many of these sites are "all about me." The Website www.BoomerWomenSpeak.com offers another form of social networking that is of course, "all about Baby Boomer Women," allowing them to connect in a different way. At BWS, women connect by their interests in similar topics where they educate and empower one another. There are over 60 forum topics and all pertain to Baby Boomer Women lifestyles so you meet new women who share your passions and interests in life. Some of the women have traveled to gather and meet friends they've met online. The friendships made at BWS are nothing short of amazing.
All of this boils down to boomers being trendy, staying hip, and never letting the new technology pass us by. So, to what social networking sites do you belong?
Dotsie Bregel is the Founder of the National Association of Baby Boomer Women, www.nabbw.com and the wildly popular Web site www.BoomerWomenSpeak.com, the # 1 site for "baby boomer women online.  She is passionate about empowering and educating midlife women. Dotsie has been mentioned in Time magazine and AARP Bulletin among dozens of newspapers across the nation. She frequently does radio interviews and appeared on The Early Show (CBS) with Dave Price. You may contact her at dots@boomerwomenspeak.com or 1-877-boomer.

---