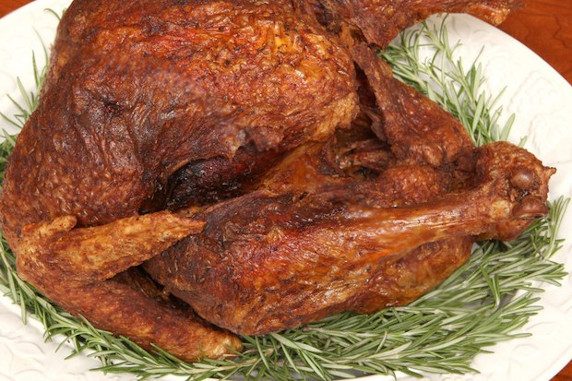 Baby Boomers Enjoy a Healthier Turkey – Deep Fried Turkey for Thanksgiving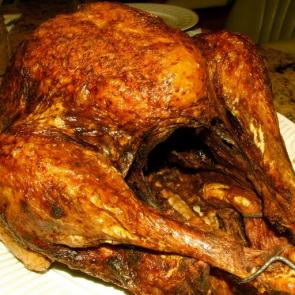 Yuck, you may say, but you are wrong. The turkey is anything but greasy. The deep-frying process seals the outside and the turkey remains very juicy, while the skin gets wonderfully crispy.
A  fried turkey is one of the tastiest ways of cooking a turkey ever invented. In many parts of the country deep-frying turkeys has become very popular.
A 15 pound Turkey will Cook in a Turkey Fryer in about 45 Minutes!
Directions:
Wash bird inside and out, and allow to drain. Baste the outside of the turkey with you favorite seasons. Rub the outside of the turkey with sprinkled salt and pepper. Inject seasoning into the turkey breast ( we use Italian dressing). Coat turkey with dry rub. Allow the bird to sit until it reaches room temperature.
Heat peanut oil in a turkey fryer or a 25 qt pot on a propane boiling grill.(3/4 full) to 350 degrees. Lower turkey into hot oil, very carefully, making sure it is fully submerged. Fry turkey for 3 minutes per pound plus 5 minutes per bird. Remove turkey from oil and drain on paper towels. 
Preparing to Safely Deep Fry A Turkey

Placing The Turkey in the Frier


Removing the Turkey from Deep Frier

Enjoy Your 4th of July Holiday!
from
BabyBoomer-Magazine.com 
---

We Guarantee there will be absolutely NO Hard Sell, NO Obligation,
NO SPAM, NO Hassles.