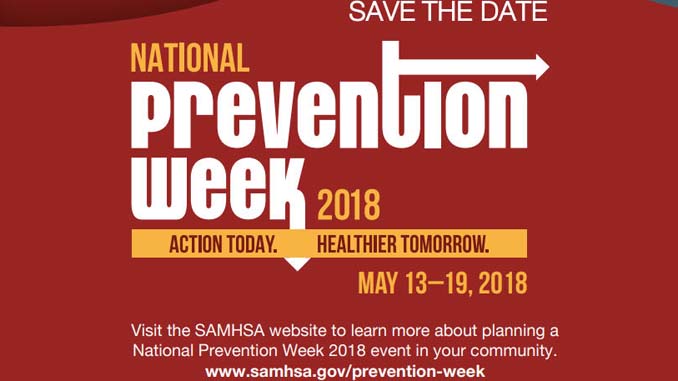 Baby Boomers Observe National Prevention Week
May 13 to May 19
This year Baby Boomers will be celebrating National Prevention Week from May 13th to May 19th, 2018!
Baby Boomers have so much to be thankful for and so much to celebrate that I wanted to take this opportunity to remind you to celebrate.
The one thing I think we can all do is to reach out to someone we care about, and whom we know to be struggling, while reminding them that we care about there struggle.
I'm reminded of speakers who will sometimes ask their audience to turn to the person next to them and say hi. Well, at this moment lets pretend that we are that audience and turn to one another and say "can I help"!
It's not so much what we know or our expertise that is needed here, rather it is simply our willingness to be present for our sister or brother who may be in need of a supportive hand or overture.
Maybe you have a couple of expendable dollars you can donate. If that's the case, please donate to increase research in the field of addiction. So much is happening in the research arena today and the only thing that is holding us back from doing more is funding.
Here is an excellent place to make a choice or use your voice to speak to your representative or legislator to act on behalf of the needs of the many people who now and later will need help with addiction.
Don't get caught up in the party line trap which will only serve to interfere with getting things done. No, let us for once act in concert regarding this most important matter.
We honestly cannot afford partisan politics to hold sway on this grave and desperate matter.
The outcomes will impact literal lives and have an ever-increasing monetary impact on our society as a whole! Thereby having a direct and devastating impact on our next generation. Let us not waste one moment or one second more, when we can begin now to act to save lives and find better solutions to fighting this illness called Addiction.
What follows are some thoughts about how your community or organization can get involved or lend a hand. After reviewing this list, see how many ideas your group or class can come up with?
• You can get tools to raise awareness about substance abuse and mental health issues.
• Build support for wellness and prevention practices within your school and community.
• Look for ways to promote mental, emotional, and behavioral well being within your school and communities.
• Highlight the importance of Prevention, for nothing, can save more lives and do more to decrease harm than Prevention.
We here at Weyland Consultation Services are in support of every effort small or large that lends itself to finding new ways of helping people stay of substances in the first place. We are equally in support of any and all prevention efforts. We believe those efforts begin in the homes of our children and how their parents live and role model for their young ones.
Weyland Consultation Services
Walnut Creek Addiction and Recovery
2930 Camino Diablo, Suite 110
Walnut Creek, CA 94597
(Serving the greater San Francisco Bay Area)
Phone: (925) 588-8833
Website: http://www.weylandservices.com
Website: http://www.weylanddetoxservices.com
Website: http://www.weylandinterventionservices.com
Email: info@weylandservices.com
I want to personally thank you for taking the time to read this comment on Prevention Week and hope you find a way to get involved. If nothing else pass this letter on.
Author
Fredrick Wade, CAS, RAS
Registered Addiction Specialist
Certified Addiction Specialist
Fred Wade holds both National and State certifications as an addictions counselor. He has worked in the field of addiction since the mid 80's, having worked in both inpatient and outpatient settings. He is the founder and Chief Executive Officer of Weyland Consultation Services which specializes in the outpatient treatment of addictive disorders for adults and adolescent males and females. Weyland Consultation Services is located in Walnut Creek California and serves the greater San Francisco Bay Area.
---