Baby Boomers
Interested in a Part-Time Job
AARP's Flexible Work Online Expo
Tuesday, September 24, 2019
2-5p.m. ET
Baby Boomers Explore the Possibilities of a Part-Time Job, Seasonable Job, Telework, Census 2020 Jobs, and More Flexible Work Options.
• Hear about job opportunities
• Talk to employers
• Get career advice that may help you find a job that fits your retirement schedule.
AARP's Flexible Work Online Expo
• Listen in on live webinars, scheduled chats, and podcasts
• Meet with employers committed to providing part-time work and work-from-home opportunities to experienced workers
• Connect with other job seekers, career coaches, and AARP experts
• Access tools to help you write a resume, improve your interview and networking skills, and help you find a job online
• Get help getting a job that fits your schedule—including part-time, telework, seasonal employment, and Census 2020 jobs.
If you need a more Flexible Work & Jobs Schedule, AARP's Flexible Work Online Expo can help Baby Boomers find and get the job we want in Retirement.
Sign up for AARP's Flexible Work Online Expo for FREE!
For job search tools and insights designed for experienced workers, turn to AARP Work & Jobs and visit the Employer Pledge Program page to connect with Employers who have committed to hiring experienced workers.
AARP WORK & JOB RESOURCES
Employer Resources for recruiting, retaining, and providing employment for seniors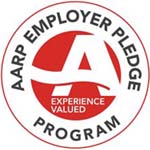 AARP EMPLOYER PLEDGE PROGRAM
The AARP Employer Pledge Program is a nationwide group of employers that stand with AARP in affirming the value of experienced workers and are committed to developing diverse organizations.