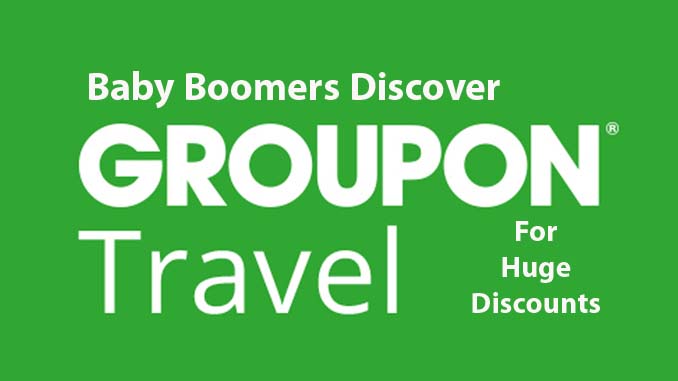 Baby Boomers Discover GROUPON for Great Travel Deals
GROUPON is FREE to join and has GREAT DISCOUNTS on Travel around the world.
GROUPON is a Deal Recommendation Service for Baby Boomers and other Consumers that want to save as much as 40% to 60% on popular products and services and travel.
GROUPON itself is a free service for Baby Boomers and others to join. Each day, Commonly, the deals are 50% discounts at a particular restaurant, or 50% discounts at a particular store. If you like the deal, then you purchase an electronic coupon directly from Groupon using your credit card or PayPal account. You print that coupon, take it to the restaurant or store, and redeem it for commonly double the value you paid.
GROUPON is known for representing a lot of local businesses but also represents great travel deals for destinations all around the world.
GROUPON GREAT TRAVEL DEALS
FOR BABY BOOMERS
GROUPON Getaways – Italy (Rome, Florence, Venice)

My First GROUPON Travel Experience

Other Great GROUPON Deals
Save More on Local Businesses with Promo Code SAVE:




$5 off $20, $10 off $40, $15 off $60 and $30 off $100 at Groupon!

Save 48% off Local Valvoline Instant Oil Change

Save 38% off Dickey's Barbecue Pit – Barbecue Meats and Sides

Save 48% off Sizzler: Steakhouse Cuisine